RHEMA Growing Around the World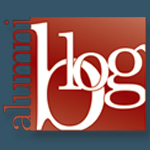 The Alumni Blog . . . RHEMA Alumni sharing what works, reaching the world with the message of faith!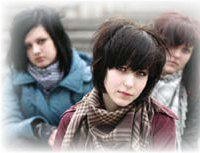 Joseph and Barbara Sorce (both '96, '97) say . . .
Bless unchurched teens. Our church has a food pantry ministry, and as families in the community came to us for help with food, we realized that their teenagers weren't being ministered to. We saw the need and came up with the "Five-Day Frenzy Youth Camp" idea just to reach out to these specific unchurched youth. For five consecutive days, we took 27 teens to special events and just loved on them. We went to the beach, county parks, track and field events, an outdoor activity center, and Six Flags. We also had them help us distribute food at an apartment community. The big finale was our regular youth service on Friday evening, where a powerful message brought salvation responses from 25 of the youth that participated.
About . . . Joe and Barbara pastor New Beginnings Christian Church in Brick, New Jersey.  www.newbeginningsnj.org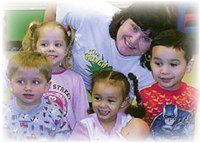 Devin ('03, '04) Kroner says . . .
Reach children; help schools. We conducted a weekly Backyard Bible Club at a trailer park, then picked up children by bus for Sunday services. We taught the same curriculum theme at both locations, reinforcing the truths of the Word. Children were given a mini-devotional paper to take home and received prizes for returning the completed devotional the next Sunday. We also found that schools often need facilities for various functions, such as training classes. We offered our church for this purpose as a means of opening doors of communication. As a result, the school used our facilities to conduct a mentoring program and foster parent training classes.

About . . . Devin is the children's pastor at Cross Points Church in Shawnee, Kansas. www.crosspointschurch.com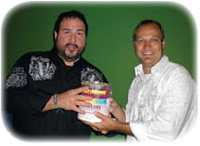 Brent Bailey ('92, '93) and Keith Nachbor ('95, '96) say . . .
Make your own green screen. If your church or ministry is into doing videos, it can cost over $500 to buy a professional green screen, or to buy the special paint to make one. We took a "real" green screen down to a paint store and had them analyze the color, then had them mix it for us and we painted our own green screen. We used Lowe's Ultra Premium Valspar. The paint code is 103-3Y10 / 107-1Y19.5 / 113-Y0.5 / 114-6Y18. It cost about $20 and works perfectly. Note: Your screen needs to be lighted really well. We bought a couple of halogen construction lights for $60–$70 each and they work great.

About . . . Keith and Brent are the junior and senior high youth pastors at RHEMA Bible Church in Broken Arrow, Oklahoma. www.axisyouth.com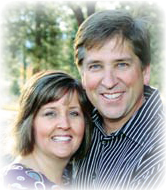 Dean ('80, '81) and Kim Hawk say . . .
Think outside the box. Our church meets in a local business— the Mr. Biggs Family Fun Center—on Sunday mornings and we give free one-hour passes to visitors. We also have committed to meeting the natural needs of the people of our city through an outreach program we call "Dare to Care." Our goal is to pour one million dollars into the lives of hurting people. In a matter of months, we have given over $200,000 to 16 worthy community
organizations including TESSA Domestic Violence, the Salvation Army, Habitat for Humanity, the Make-a-Wish Foundation, Bethany Adoption, and several public schools. The results have been phenomenal as we've impacted
over 400 families.

About . . . Dean and Kim pastor Rock Family Church in Colorado Springs, Colorado. www.rockfamilychurch.com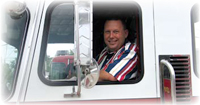 Tony McKinnon ('98, '99) says . . .
Honor emergency personnel and local government officials. Inspired by the dedication of police and firefighters at the September 11th tragedy in 2001, our church has chosen that day each year to honor our local officers, firefighters, judges, mayor, state representatives, sheriff's deputies, and jail officials. We provide a nice dinner and our appreciation for their service to our community. This has created an open door in the community as the people realize that our church wants to give back to our city. We have been called to minister in disaster situations and to pray at public events.

About . . . Tony and his wife, Kim, pastor Family Worship Center in Williamstown, Kentucky. www.fwcgc.com
Tim Davidson ('77) says . . .
Meet needs in rural areas. We have an outreach program called Rural Ministry Network. We partner with other groups to offer DVDs of services and we plan to stream our services by Internet soon. If a small church has no youth ministry, we take our youth group and hold services to encourage them. For those who are hungry for the Word but lack teachers, we currently provide a 20-minute DVD for home group Bible study. Our mission is to fill the ministry gap from our resources wherever we find a need.

About . . . Tim is RMAI Regional Director for Region 5. He and his wife, Gena, pastor Word of Faith Church and Outreach Center, Bismarck, North Dakota. www.wordoffaithchurch.com

Steve and Mamie Ogle (both '93, '94) say . . .
Reach out in coin laundries. We ask church members to save their quarters (or donate toward this outreach), then they go out to coin laundries on Saturday or Sunday afternoons and offer to pay for people's laundry. Even those who are shy about street witnessing find this act of kindness a comfortable way to show the love of Christ. In the three years we've been doing this, our offer has been met with varied responses, but many times with tears of gratitude. Often the Holy Spirit opens the door for further ministry, and we pray with them or help in any way we can.

About . . . Steve and Mamie pastor Community Life Church in Butler, Pennsylvania. www.clcbutler.org