Rod & Julie Anderson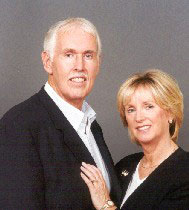 UNITED KINGDOM
The Prayer Foundation
Rod & Julie have ministered in England for 25 years, where they lead The Prayer Foundation and are Senior Leaders of Commonwealth Church in London. International prayer summits are held bringing together nations in prayer & reconciliation through the ministry of The Prayer Foundation, and Commonwealth Church has tripled in size since the Andersons took the church in October of 2008.
They also act as Chancellors for Wagner Leadership Institute UK, & Julie leads The Deborah Company UK.
Their call continues to be the "education of the spirits of men, rather than their intellect, towards intimacy with Christ."
Email: info@theprayerfoundation.org
Visit us at: